"In the first 5 seconds, your image influences the people you meet."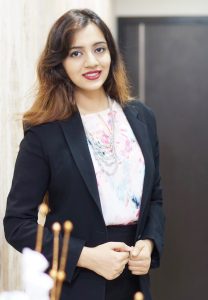 Dhara Pabari is an Image Consultant, Personal Shopper and a Soft Skills Trainer.
She is passionate about teaching the art and science of Image Management to her clients so they use it in their highest potential in order to live their lives to the fullest in congruence with their individual personalities, roles and goals.
She creates an effective visual image by blending their physical characteristics.
She is internationally certified as an Image Consultant from the Image Master Judith Rasband herself at Conselle Institute of Image Management, Utah in the USA.
Dhara Pabari's Expertise
Outfit Building & Wardrobe Styling
90%
Body Language & Postures
90%
Outfit Building & Wardrobe Styling
90%
Personal Grooming & Etiquette
100%
"Style is a reflection of your attitude and your personality."

Testimonials

Hey, firstly it was really an amazing experience! I got to know more about my skin and also the way I should take care of it! Basically, I learned a few small techniques in order to apply makeup and for that, I m thankful to you. Keep going!
Shreya Chandak

Dhara believes in being unique and is keen to find the uniqueness of her clients too. Personal interests, tailored solutions and warm demeanour, is what she brings to the room. Highly Recommended.
Archana Bora

Pretty good at what she is doing. Gives you great advises keeping your needs in mind when it comes to personal shopping and image consulting and her soft skills are really good too. Thorough professional and great to work with. Would take her advises in future too. Thank you for everything you have done for me. Always great working with you.
Inderpal Kalra
Reflect your Completeness with Dhara Pabari!